Search for recipe ideas
In an effort to streamline our site and help you get to just the parts you want without have to sift through the site we have added a search engine. Below are some suggestions on what to search for. Feel free to use the engine for any vegan ideas you may have.
Tofu                  Seitan                Beans
Kale                  Lentils                Vegetables
Holidays            Soup                  dessert

Pasta                 noodles              Mexican
Asian                 potatoes             spices

Featured Blog Post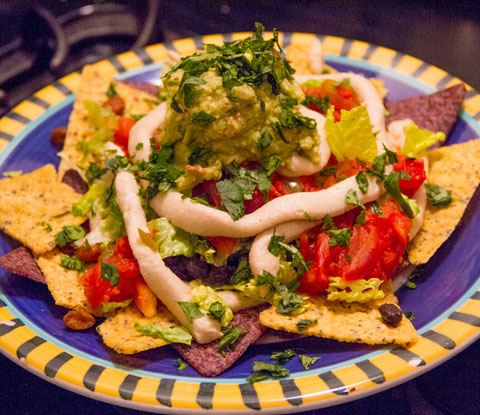 Sunday, January 19
Two-Bean Nachos with Cashew Cheese
Rating: 4.25
Football night often means fun food. We decided to have nachos. Seth mostly made this one because he is the master of salsa, guac and beans. He uses a method from his days working at a place called Tortillas for the beans. The restaurant isn't around anymore, but it's kind of an Atlanta legend. Some of the guys who worked there opened up El Myr in Little 5 Points, and they have tons of yummy vegan options. Seth made the guacamole and salsa. They're both pretty basic, but the secret to his guac being so good is a splash of red wine vinegar. (Don't tell him I told you.) I made a big batch of the Luminous Vegans cashew cheese recipe. It's so good and so simple. I always soak the cashews even though we have a Vitamix because I've found it helps with blending. Also, I add a little extra liquid to thin out the cheese a little bit. It's a really versatile recipe and can be spread on everything from crackers to apples. I think it would also be good spread on a bagel or English muffin, but I haven't tried that just yet. For things like nachos and tacos, I put some into a plastic baggie, snip off the corner, and pipe it onto them. We also really like  the Ancho Lentil Taco filling recipe from Isa Does It on nachos along with the queso blanco (from the same book). Really, nachos are so versatile, you can put pretty much whatever you want on them. I have some extra jalapenos leftover, so I think I may give this recipe for Jalapeno Poppers from Vegan Richa a try sometime this week, too.