Search for recipe ideas
In an effort to streamline our site and help you get to just the parts you want without have to sift through the site we have added a search engine. Below are some suggestions on what to search for. Feel free to use the engine for any vegan ideas you may have.
Tofu                  Seitan                Beans
Kale                  Lentils                Vegetables
Holidays            Soup                  dessert

Pasta                 noodles              Mexican
Asian                 potatoes             spices

Featured Blog Post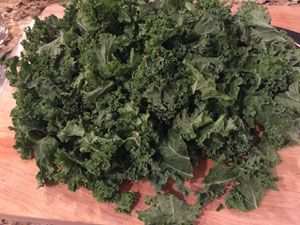 And we're back. Weird to be blogging again after taking so much time off – unintentionally, but then well, you know, life happens. But I've found myself with a little more time on my hands than before, so we've decided to give it another go. While soup may not sound like the most exciting thing to write about, it was so delicious i really wanted to share. I never considered myself much of a soup person, but that was before I started making my own. I know cans are probably a lot easier, but they're nowhere near as good, and with a little planning, homemade doesn't have to be a hassle. Most soups don't need to simmer for very long, and it's really just a matter of chopping up some veggies and tossing them into the pot. You can even clean up the rest of the kitchen while it cooks. If you're the sort who cleans as you cook.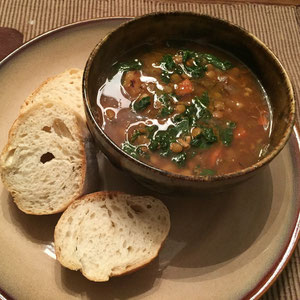 We were recently gifted a copy of Dreena Burton's "Let Them Eat Vegan" and have tried a few recipes with very good results. I've been making an effort to eat healthier after several months of way too many pre-made veggie burgers, nights of take out, and otherwise not-so-great eating habits. Since this book was given to us by the two healthiest people I know, I've been poring over it's pages lately and this soup jumped out at me. Beans and greens just scream healthy, don't they? Plus, we'd been to the farmer's market and were loaded up with greens for the week. I started off by throwing some white beans into the pressure cooker and set about chopping the veggies while they cooked. Doesn't get much easier than this, people. Once the veggies were chopped into the pot with the broth and lentils they went, where they simmered happily until the lentils were cooked and the veggies were tender.  The white beans and greens (we used kale) get added closer to the end. I also had to add a little more water, as the lentils had absorbed more than I really expected them to. I really loved the way this turned out, and it would be very easy to adapt to make it oil-free, or to swap out different veggies depending upon which ones you like or don't like. We used potatoes, carrots, onion, garlic, and kale; pretty much what the recipe called for in the first place, but you could use bell pepper or mustard greens or whatever. Even though I now love soup, and a hearty one like this really is a meal unto itself, we picked up some baguettes from a great local bakery, Red Star Provisions, and warmed up some chunks of that to have along side our soup. A perfect cozy dinner on a chilly Saturday night.