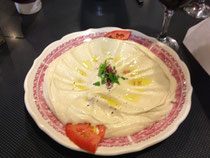 We came to SF for Veg Fest (which is Saturday & Sunday) and came a couple of days early to have some playtime because we both love it here. We have some friends who were kind enough to put us up for a night so we headed to a little Mediterranean restaurant in their neighborhood for dinner. The place is adorable (it used to be a 1950's themed diner and they kept the flying saucer shaped booths and some of the other décor. Too cute. It's a family run restaurant, which I love. The service was fantastic, they really want you to enjoy your meal and have everything you need.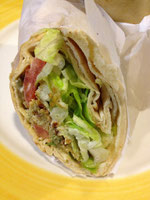 I know, I know, get to the food already right? Well, as you can probably imagine, we both had falafel wraps. And wow. They were really good. It may sound weird, but when they make the wraps, the falafels get smooshed so they're really easy to eat. Much easier than the sort of awkward pita sandwich that rips and your falafel falls out in you lap. Or does that just happen to me? Anyway, the wraps were not just easy to handle, but were really tasty too. I think a lot times falafel can be really dry, but these were moist and delicious.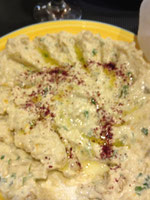 We also had a side (it was huge) of hummus, which was amazing – so smooth and delicious – and a side of baba ganoush, which was also huge and delicious. If you're in San Francisco and find yourself in need of a quick falafel, go here. Oh, and the prices are really reasonable too. Sorry to link to reviews that mostly talk about meat-filled meals, I can only find links to review pages for this place. Just consider this a great review for vegans.