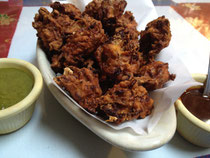 Since we're in San Francisco, we had to be tourists for a minute and ride a cable car over to Pier 39 to visit the sea lions. We did it when we were here last year, too and I think it's one of those things that you just sort of have to do if you don't live here. It's so wonderful to have the chance to see such amazing marine animals in their own environment, where they belong. They just climb all over each other and sleep in a big pile and are adorable.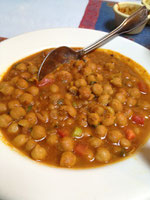 We got hungry while we were there and so grabbed lunch at an Indian place we saw on our way from the cable car stop to the pier. Their sign boasted that they were vegan friendly and they weren't kidding. (I love seeing big signs meant to attract vegans at restaurants, by the way.) All vegan items were clearly marked on the menu, and there were a lot. It was a little funny that it's a combined Irish pub and Indian restaurant, but there you go. We decided to order a few appetizers and smaller dishes to share. We ended up with a lot more food than we could finish, and it was all delish. We started with a basket of pakoras. It was kind of a big basket. We ate them all, dipped in the two delicious chutneys that were served with them.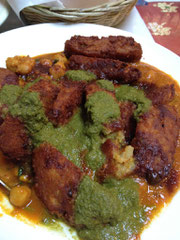 We also ordered Chole Bature, which is a spicy chickpea dish served with this puffy bread that is amazing. You can spoon the chickpeas onto the bread and eat them together and it's a party for your taste buds. The bread is also really good for mopping up the sauce the chickpeas are in. Yum yum and yum. Our favorite dish was Aloo Tikki with Chole. Maybe we should have realized we were ordering a lot of chickpeas, but we didn't. Oh well. The puffy bread was worth it. So what about the Aloo Tikki? Oh. My. God. They are these little cakes made from potatoes and onions and yumminess that are grilled on an iron griddle and served over the aforementioned chickpeas and have a cilantro-mint chutney drizzled on them. Holy yummy potatoes, Batman!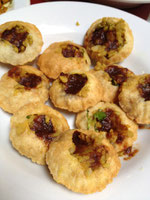 The last thing we had (yes, too much food, but it didn't seem like it when we were ordering) was called Pani Puri. These are little puffy shells stuffed with mashed up chickpeas and veggies and seasonings. They were tasty, but I didn't realize they were served cold, so it was a little bit of a surprise. I think I might have liked them better if they were warm, but there you have it.