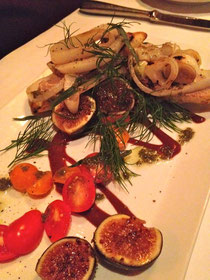 I'm pretty certain it's illegal for a vegan to visit San Francisco and not eat at Millennium. I have one of their cookbooks and have tried a few of the recipes, which are generally an all-day project. We arranged a few weeks ago to have dinner there with our friends Priscilla and Lee from Friends of Animals. We had such a wonderful time visiting with them and we both learned so much about working in the world of animal rights and the challenges they face every day. It's not easy work, and I have so much respect for the people who are able to do it every day.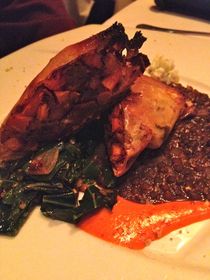 The menu at Millennium can be a little overwhelming. You sort of feel like a kid who just walked into Santa's workshop and you don't know what to play with first and you have to choose just one or two things and it's too hard to pick and and and… Well, it's just that it all looks and sounds so amazing and it's such a treat to be there, you want to be sure to get just the right dish. But eventually you have to decide, so we started off with the Fig Bruschetta. Yes. Fig Bruschetta. It's a wonderful toasty bruschetta with pecan pate seasoned with sage and rosemary, topped with grilled onions and served with cherry tomatoes, fig quarters and a fig-balsamic vinaigrette. Yes, it's as amazing as it sounds; and very rich too. For his entrée, Seth ordered the Bastilla, which is a square pastry filled with Kuri squash and grilled seitan. It's served with a lentil and tomato tagine, sautéed greens, and a Fresno chile harissa. He took one bite and told me that if I wanted to taste it at all, I'd better hurry up because it was going to be gone quickly. So, I quickly got a bite of it and it was every bit as good as it sounded on the menu.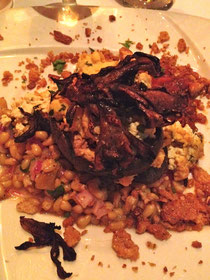 I had the Eggplant Napoleon. It's a little stack of eggplant with sage tofu cheese, topped with grilled Maitake mushrooms. Served alongside it are a smoked tomato, pumpkin seed & fennel Bolognese and a kamut salad. The plate is also sprinkled with toasted pine nut breadcrumbs. I just can't even begin to say in words how good it was. Seth doesn't like eggplant, so I had it all to myself. OK, I let him taste the tofu cheese and the Bolognese, but that was it. There was also a seasonal prix fixe menu, which also looked remarkable, but in the end, the individual items won out. We couldn't leave without having dessert. After some back and forth we settled on the Bourbon and Black Salt Chocolate cake with smoked pecan ice cream and strawberry bourbon sauce. I don't even need to say how prenominal it was do I? I had a hard time not falling on my knees and thanking the chocolate gods for it. (we dove in too fast and didn't get a photo – sorry) Wonderful dinner and wonderful company; it was a perfect ending to a wonderful first day at SF Veg Fest.