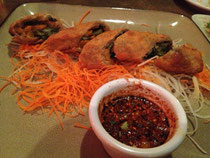 Seth wanted to go out to eat and I wanted sushi, so off we went. There is only one place for us when it comes to vegan sushi and that's Ru San's. It's just a regular (omni) sushi place, but they have a ton of vegan options (the online menu is incomplete). And I mean a ton. You will not leave hungry. It was chilly, so we started with miso soup, but then we ordered tons of food. We have a few items we always get, and even though they took one of them off the menu, they've still made it for us when we've asked – it's an appetizer that's a huge spring roll stuffed with carrots & asparagus and served with an really yummy, spicy dipping sauce.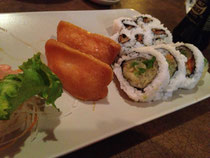 The other stuff we always get is the fried garlic maki (yes. fried. garlic. sushi roll.), the mixed vegetable tempura maki and the nigiri tofu (fried tofu, stuffed with rice & served cold). I sort of only remembered halfway through the plate that I was supposed to be taking pictures, so the plate is a little empty…
We finished out with a sesame tofu plate, which we've had before and always forget has more seaweed than either of us can ever hope to eat. I like seaweed as much as the next vegan, but Seth is not really a fan, and truthfully, I prefer it in those dried sheets you can get at Trader Joe's  - yum. Anyway, the tofu comes with bell peppers and onions and a healthy sprinkle of sesame seeds. It's tasty, but I was really too full of all the other yumminess to eat a whole lot of it.