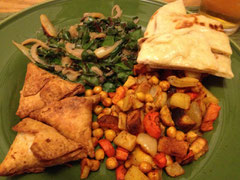 So, I uh, forgot to soak & cook the chickpeas again. Sigh. I realized it on my way to work, about a block before my very old car broke down. Not kidding. Seth had to come rescue me. I had to get the car towed to the shop, where it cost a bloody fortune to fix. So much for my tax refund. Oh well. I'm just thankful it happened in the neighborhood and not on the interstate. I'm also thankful my insurance company has free roadside assistance and amazing customer service and that Seth is so awesome he waited with me for the tow truck. It was bloody cold outside and I did not fancy waiting in a car that didn't run. Anyway, all this gets back to dinner because, as I had no car, I had to work from home. Which meant I could soak and cook the chickpeas after all. Silver lining? So anyway, my mom made these awesome Moroccan roasted veggies for me at Christmas, which she modified from another recipe. I decided I would add some chickpeas to it and make it a main dish instead of a side. All of this was a great plan. (see the chopped, pretty veggies)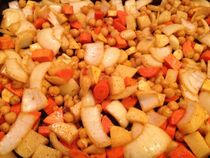 Unfortunately, I'm kind of a dummy sometimes and I put the chickpeas in with the veggies when I roasted them. This probably would've been ok, if I'd remembered to put the samosas in the toaster oven to bake and didn't end up needing to keep the veggies and chickpeas warm in the oven for too long. Which… made the chickpeas into chewy, dried out little balls of yuck. Also, despite my reducing the amount of sweet potato by a lot from the original recipe (at the end of this post), it was still more than Seth was really ok with, since he doesn't like sweet potato and I was really just trying to sneak it by him. I'm not as sneaky as I thought. Anyway, if you make the recipe (and I really do like it a lot when it's done right), use however much sweet potato you like and don't overcook the chickpeas, if you use them. Maybe even just add them at the very end of the cooking time.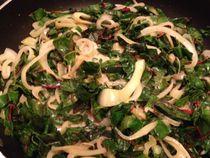 I wanted something green and yummy to go with the roasted veggies that I was so looking forward to. I've had my eye on the Quick Curried Chard recipe in Color Me Vegan (it's in the red section since you use red chard) for quite a little while. This turned out to be the shining star of the meal. It really is quick – once the chard is chopped and the onion (I used yellow since I was out of red) is sliced, it takes almost no time at all to cook. And it's good. Really, really good. Amazing that something so simple, which just a few ingredients is so tasty, but there you go. It says it makes 2 servings, and if you have it as a main over rice, I could see that. Since we had it as a side, we got 3 pretty large servings out of it. (Leftovers for lunch! Yay!) We served it all with samosas (Sukhi's) and naan (Vegan Eats World - best naan ever) which I had in the freezer.
So here's the veggie recipe. Don't screw it up like I did.
(All veggies are diced)
2 large carrots (I used 1)
1 parsnip
1 Yukon gold potato (I used 2 small russets)
1 onion (I left mine in big chunks instead of dicing)
1 large sweet potato (I used half of a small one)
Chickpeas (if you want 'em, but add at the very end)
Garlic (however much you like, I left the cloves whole – not part of the original recipe, I added them on my own)
¼ teaspoon each: sweet paprika, coriander, cumin (I admit, I used more of all)
3 TBL olive oil (I used less)
Salt & Pepper to taste
Preheat oven to 450. Toss the veggies in and olive oil in a large bowl. Sprinkle with the spices and toss to coat. Spread on a baking sheet and roast for 20-30 minutes, until browned. Do not overcook the chickpeas.