So I inadvertently took the last month off from blogging. There was no real reason other than being tired. Daylight savings really messes with me and by the time I left work, went to the gym, cooked dinner and sat down, I was beat. I'll be trying to blog almost nightly again going forward, unless I get, you know. Tired. Anyway, just to hit some highlights…
Monday, March 18
Spanish Rice & Beans
Rating: 4.25
We eat a lot of rice and beans around here, which could get really boring and repetitive. Fortunately, we also have way too many vegan cookbooks, so we have an endless supply of recipes for different ways to make them. This one (from 1000 Vegan Recipes) is really tasty and has a nice special guest flavor – kalamata olives. It's pretty easy to make, and most of the time it takes is just simmering so the rice can cook. You could use a can of beans, or just cook some dry beans ahead of time, which is what we do. We buy things like beans, rice, flour and sugar in bulk from the local co-op; it's a lot cheaper than canned or packaged, and they're organic too. If you want to be really frugal, you can store them in empty pickle jars. Who says being vegan is expensive? Plus, you can use all the money you're saving for buying organic produce, which sadly is generally pretty pricey. Anyway, the beans and rice makes a lot, so we have the leftovers for lunches at work. We also like to have some veggies with it, so we made a salad, but sometimes we have steamed broccoli or grilled asparagus with it.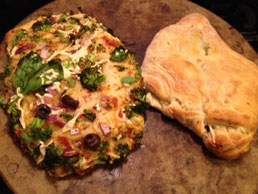 Saturday, March 16
Pizza, sort of…
Rating: I have no idea
This was a colossal pizza fail that tasted really good, but as you can see, well…
We actually generally make really good pizzas. This time, however, the sauce was our undoing. Seth made a fresh batch of Zombie sauce, and it was a bit juicier than it needed to be. The dough was happily rolled out and on the wooden peel ready for sauce, toppings and transfer to the stone warming in the oven. Unfortunately, some of the juice from the sauce ran over the edges and onto the peel, under the dough. Since the peel was sprinkled with cornmeal, the combination of that with the juice made, um, glue. Seth likes more sauce than I do, so his side was more stuck than mine. We decided to try to fold the dough over and make calzones instead since the pizza was not coming off the peel intact anyway. As you can see, my half folded over sort of neatly. Seth's, however, ended up looking like a ball of dough that rolled down a hill and picked up toppings along the way – broccoli, spinach, garlic, tomatoes, onions & Daiya mozzarella. They were ugly, but delicious.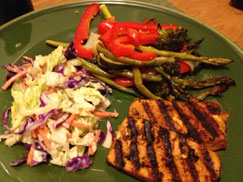 Thursday, March 14
Asian-Buffalo Grilled Tofu, Slaw and Roasted Veggies
Rating: 4.25
OK, so we're in love with the Vitamix and since it's new, are trying to find reasons to use it as often as possible. I found a recipe in the cookbook that comes with it for an Asian-Buffalo sauce, which was suggested for tofu (along with other gross things we won't discuss). Now, we normally prefer to marinate tofu and I knew that just doing a basic oil/tamari/maple syrup glaze and grilling, then topping with sauce would not be how we like our tofu. So. I marinated it in the sauce. I really liked it. I don't think Seth was as big of a fan as I was. The sauce/marinade is basically and Asian ginger sauce with hot sauce added. I baked it for a bit, then finished it in the grill pan. We had some slaw with it because this is the South. I based my free-hand version on the basic slaw recipe in 1000 Vegan Recipes. There was no recipe for the veggies either – just asparagus, bell pepper, broccoli and zucchini tossed with a little oil, and some light seasoning.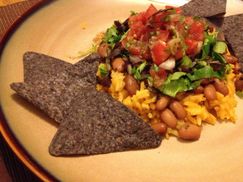 Wednesday, March 13
Pinto Beans over Yellow Rice with Garlic
Rating: 4.5
Keeping with our current beans and rice and veggies theme, Seth requested pinto beans. I'll be honest. I have no idea what to do with those little bastards. Back when he was in college, Seth worked at a place called Tortillas, which made massive, inexpensive burritos. (Some of the guys from Tortillas opened up El Myr and you should go there if you live in Atlanta because the food is awesome and it's very vegan friendly. But there's no non-smoking section, so if that bothers you, get your food to go.) Anyway, he had a pretty good recollection of how they made the beans and went with that. I don't know what the proportions were of what he put in, and I don't think he measured. Just put "lots" of cumin, garlic salt and chili powder in while the beans are cooking and you'll be fine. We served them over yellow rice with garlic (Viva Vegan) and some of Seth's fresh made salsa/pico di gallo. 
Sunday, March 10
Pasta with Zombie Sauce, Garlic Bread and Salad
Rating: 4.75
So, something really, really, really exciting happened. Seth got me a Vitamix for my birthday… AND LET ME HAVE IT A MONTH EARLY! Since we had a new toy, we decided that the only logical thing to do was to make Zombie sauce. Seth found the sauce recipe a few weeks ago and we really love it. It's not hard, but it does take a little while to make. It's worth it though.  It's just so good. Plus, we got to give the Vitamix her maiden voyage. Seth also made a salad and garlic bread, which were predictably amazing.
Wednesday, March 6
White Rice and Black Beans with Salvadoran Slaw
Rating: 4.5
I may have mentioned that I love Vegan Eats World, right? Well, Seth wanted a basic beans and rice recipe and this one seemed to be the way to go. It's really pretty simple to make, and as with all of the recipes in VEW, it's delicious. It's a definite keeper, put in regular rotation recipe. I wanted to make a simple side dish to go with the rice and beans, but I didn't want a salad. I settled on the Salvadoran Slaw recipe in Viva Vegan. It's easy, quick and amazingly good. Seriously. People will have no idea that it took so little work to make it. (Especially if you cheat the way I've been doing lately and buy pre-shredded slaw mix… I only do it because I have a hard time using up a whole head of cabbage before it goes bad.)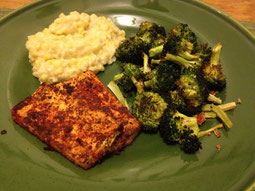 Sunday, March 3
Blackened Tofu, Creamed Corn and Roasted Broccoli
Rating: 4
It had been a pretty long while since we'd had blackened tofu and I really wanted some. We normally use the recipe from Appetite for Reduction, and while it's delicious, the coating can be a little bit dry. I found another recipe I wanted to try, so we went with that one. It was really good and just as easy as the AFR recipe. It uses a bit more oil, so it's not at low fat though. Also, I smoked the tofu first, which I have to say, is my new favorite thing to do with tofu. (My mom got us a stovetop smoker for Christmas and we love it.) I also cut it into 8 slices instead of 4. Corn isn't in season yet, so I grabbed a bag of frozen and made a batch of creamed corn (this was the AFR recipe). I don't know what was up with the almond milk I used but the corn came out really sweet. So sweet in fact that I checked the container about 10 times to be sure it was, in fact, unsweetened milk. It was. I checked the cornstarch to be sure it wasn't powdered sugar. It wasn't. I've never had that happen before, it was so weird. Normally, that recipe turns out perfectly, so I totally blame the milk. I also made a side of roasted broccoli from one of my new favorite books, Vegan Eats World. It's rather easy to make, and I pretty much just followed the recipe as a guide and used my own seasoning and a lot of garlic. Because, garlic.