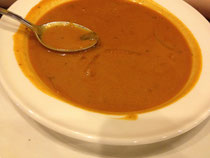 This month's ATL Vegan Drinks meet up was at Fuego Mundo in Sandy Springs. The restaurant is very vegan friendly and made a few extra treats for us as well. This is the second time we've been there and the food was delicious both times. Seth started off with the cream of tomato soup. We also, on the advice of everyone at the table, got an order of the yucca "cheese" bread (which we ate too fast to take photos), which was amazing. The other tapas options were yucca fries and dip, bab ganoush, and a Latin veggie soup.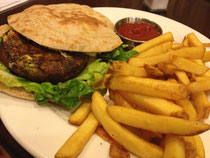 For the entrees the options were veggie fried rice with plantains, grilled tofu steak with chimichurri, quinoa veggie salad or a wood fired Mediterranean veggie burger on a wheat pita. Seth got the veggie burger and a side of fries. All of the sides are vegan at Fuego Mundo and range from beans and rice, to yucca fries to salad. We've loved every one we've tried.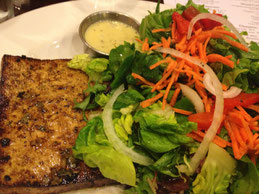 I had the tofu steak, which is what I had the last time we went. It's so yummy and simply made. The chimichurri isn't cilantro-heavy, which some are, so the seasoning is just light and tasty and smoky. I had a salad for my side and it was huge. And yummy. There were several drink specials to choose from, including a mimosa, white or red sangria or virgin mojitos. We just had beer, but the sangria looked pretty good too.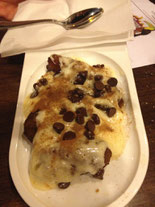 We skipped dessert, but I heard the plantain s'mores looked pretty tempting. There was also a praline-crunch ice cream, a passion fruit sorbet and a virgin mojito sorbet to choose from. The s'mores and sorbets seemed to be the most popular. Looks pretty good, no? Thanks to Feugo Mundo for hosting us again!