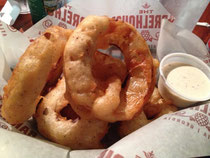 What? You've never heard of Vegan Drinks? Well, it's a monthly meet-up in cities all over the world. It started in NYC, and people have started their own events globally. Each city does it their own way and here in Atlanta, it's more food than drinks. Each month Brett, the organizer in Atlanta, makes arrangements with a different restaurant to prepare a special vegan menu for the group. This month, we went to Barrelhouse in Midtown. Barrelhouse already has several vegan options on the menu, so in addition to the specials they offered for the night, we also had their usual selections to chose from. The specials were strawberry gazpacho with mint pesto, ratatouille with polenta and roasted okra, and pineapple-basil sorbet.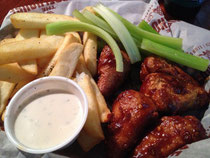 On the regular menu, they have beer-battered onion rings, vegan "wings" with ranch dressing, nachos that can be made vegan by subbing the vegan chicken and leaving off the cheese (I saw a plate of these at the other end of the table and wow they looked good!), and a black-eyed pea falafel burger (hold the tzatziki) which you can get with beet hummus. I think there are a few other appetizers that are vegan too. We started with the onion rings, which come with a side of vegan ranch. We initially also ordered the fried pickles, because FRIED PICKLES, but the waiter came back and let us know they weren't vegan. Oh well. One of these days I'm going to make some. Haven't had them in ages.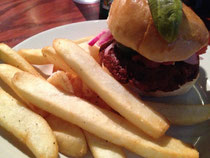 The onion rings were gigantic and amazing. When we got to the bottom of the basket and there was only one left, we split it. For our meals, I got the wings (kung pao sauce) which also came with fries – because at that point, screw it. Eat ALL the fried food. Seth got the black-eyed pea burger, which he loved. Everyone who got it loved it. He wished he'd gotten the beet hummus added to it, because he said it needed some kind of sauce or dressing. The food was good and it was awesome to hang out with some friends we haven't seen in a while. If there's a Vegan Drinks in your city, you should go. It's a great way to meet new people and enjoy a meal without all the weirdness of eating with omnis.