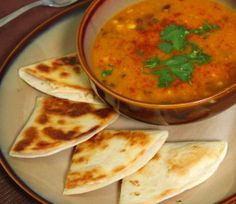 Soooo…. We got a whole bunch of unripe tomatoes from the final CSA pickup, and have been patiently waiting for them to ripen. And waiting. And waiting. Some of them were starting to develop little bad spots, so we had to go ahead and use them up. Or at least some of them. We decided on soup, since I could add a bunch of other stuff that would add some flavor to them. Plus, it's been unseasonably cool in Atlanta and it has me yearning for Autumn. I poked around a little for a recipe I could work with and didn't really find what I was looking for. So, I decided to make one up. I think this would be really good with more flavorful tomatoes, but it wasn't bad even with the less than stellar ones we had, most of which were very large. I think I will give this one another shot with better tomatoes, because there was a lot of flavor in the soup itself. The quesadillas were really simple, just some Daiya Pepperjack (hence, the name Daiyadillas) in small flour tortillas. The recipe below for the soup is just estimates of measurements since I generally just eyeball most things when I cook without a recipe. This will make about 4 or 5 servings, depending on how big your soup bowls are.
            4 or 5 large tomatoes, quartered and cored
            1 large tomato, chopped
            1 tbl olive oil (or if you prefer, just use water to sauté)
            1 jalapeno pepper, minced
            1 small onion, chopped
            1 ear of corn, kernels cut from cob
            3 cloves of garlic, minced (it needed more)
            1 ½ cups cooked black beans (or 1 can)
            ½ tsp salt (it needed more)
            2 tsp cumin
            ½ tsp smoked paprika, plus more for garnish
            ½ tsp ancho chili powder
            A few splashes of liquid smoke (optional)
            Chopped cilantro, for garnish (optional)
Core the 4 or 5 tomatoes and cut away thick core, if needed. Place them in a blender (I used a Vitamix) and puree until they are more or less tomato juice. You should end up with about 4 cups of juice. Chop the other tomato and set aside. Chop the onion and jalepeno. Heat the oil in a large saucepan. Add the onion, jalapeno and corn. Sauté until the pepper and onion are tender and the corn has flecks of brown, about 7-10 minutes. Press the garlic directly into the pot and sauté for another minute or two. Add the tomato juice, black beans, salt, cumin, paprika and chili powder. Cook until heated through. Add the chopped tomato and cook for a few more minutes so that it softens. Splash a few drops of liquid smoke in and stir to incorporate. Taste for seasoning and adjust as needed. I added the liquid smoke as an afterthought at the end to give it a smokier flavor that just what the paprika gave it, but it's totally optional. Garnish with cilantro if you roll that way. I don't care for it, so I only put it on Seth's bowl. If you like cilantro, try stirring more than just the garnish into the soup right before it goes into the bowls. I put a small dollop of Tofutti sour cream on mine and it was pretty tasty too. Seth crumbled some blue corn tortilla ships into his and seemed to like that as well.