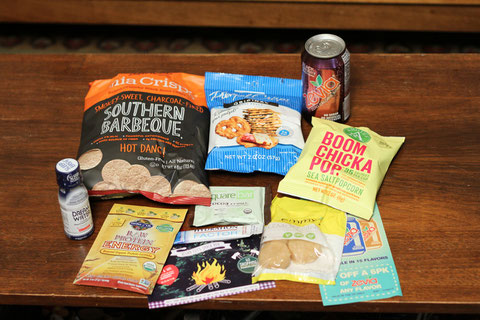 We love, love, love Vegan Cuts. In case you don't know who Vegan Cuts is, think of it sort of as Groupon for vegans. Only better. They work with a whole bunch of companies to get great deals on vegan products – everything from skincare to seitan and handbags to magazines. A few of the deals we've gotten from them have been a subscription to Laika magazine (an awesome new vegan magazine out of NYC), a great big box of different kinds of Upton's Naturals Seitan (yes!), Moxie Organix skin care products and the Vegan Mashup DVD.
Vegan Cuts now has monthly snack box subscriptions. Each month, you get a box delivered right to your door with seven to ten vegan products in it. The cost is $19.95 per month (free shipping) and you get a mix of food and household items. It's great because you get a chance to try a whole bunch of new things all atonce.  There's still time to order the September Snack Box, so hop to it!
We got our very first snack box recently (watch us opening it here - a friend of ours said it reminded her of a Portlandia skit, plus one of our cats totally photo -video? - bombed us). Our snack box had a whole bunch of yummy stuff in it: Boomchickapop popcorn (which I promptly inhaled), Snack Factory Pretzel Crisps, Lesser Evil Chia Crisps (BBQ Flavor), Emmy's Organic Lemon Ginger Macaroons, Black Cherry Zevia, Garden of Life Raw protein powder, Dream Water natural sleep aid, a Square Bar, and a Hydration Factor enhancer for water.
There are a few items we haven't tried yet, but so far our favorites are the salty snacks, because we just sort of roll that way. I really loved the popcorn and the Chia Crisps and Seth was a big fan of the pretzel crisps. The popcorn is lightly flavored and only has 35 calories per cup, so it's a healthier option than some other snacks. I was really curious about the Chia Crisps and they were delicious. The pretzel crisps were also a big hit – I've tried the Everything flavor of these before and I love them. Seth really enjoyed the original, which I think would also be awesome with some dip, like maybe some kind of rocking vegan spinach-artichoke dip. We also loved the macaroons, they're not too sweet and the lemon, ginger and coconut are amazing together. Seth tried the Square Bar and it was a bit too sweet for his taste, but then again, he doesn't really eat sweet stuff very often so I think that played into it. The Dream Water worked like a charm. I've struggled with insomnia since I was a kid and always have some kind of sleep aid around. Most don't work all that well. I really liked the Dream Water because it helped me relax easily and doze off – no easy feat. I also didn't feel groggy the next day at all or have crazy dreams, which usually happens with the other stuff.
Vegan Cuts also recently introduced the Beauty Box, which is filled with a mix of skincare and beauty products. I think this is genius because you can try new things without buying a whole bunch of full-sized items that may or may not work out for you. Plus, between the Beauty Box and the Snack Box, you'll get fun stuff in the mail each month, and who doesn't love that?
Meet the awesome Jill in a short video Seth shot at San Francisco Veg Fest in 2012.
Disclosure: Vegan Cuts sent us a free snack box to review. All opinions expressed are our own and were not influenced by Vegan Cuts in any way. But I could totally be bribed with a Beauty Box. (The last bit was a joke, for all you lawyers out there.)