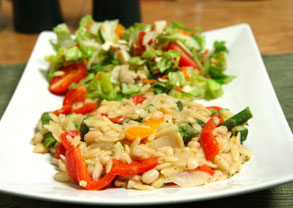 Orzo, Navy Beans & Veggies, Salad with Creamy Basil Dressing
Rating: 4.25
When I did my meal planning for the week, I knew I had a few odds and ends kicking around in the fridge that we needed to use, so I made sure to plan around them. The first thing I needed to finish off was most of a package of Mori-Nu tofu. I'd opened it when I made the creamed spinach last week, but since I made a half batch of that, I only used a small amount. I decided to make a salad dressing out of it and the little bit of basil I had left. I looked at a few different creamy basil dressing recipes on-line and then invented one. It turned out pretty good, although I think it still needs a little something. It was better on the salad than when I just tasted it on it's own, though. I'll probably make this again and keep tweaking it. Often, when we have a mix of partial veggies left in the fridge, I'll mix them with either some kind of pasta or grain, add some beans and call it dinner. Since I had just a few veggies to use up – some bell pepper, onion and romanesco - I needed to fill it out a little. I'd bought some asparagus to use later this week, but I knew I'd have some leftover so I took several spears out of the bunch and added those to my pile of veggies. I also picked up a zucchini to fill things out a bit. I soaked and cooked about the equivalent of a can of navy beans ahead of time. I went with orzo this time, but my other favorite is Israeli couscous. I like to cook the pasta in just enough liquid so that it absorbs most of it and then add it to the pan with the veggies. I use broth to give it all some extra flavor. I didn't really use any kind of recipe for these, but here's pretty much what I did:
Orzo with Veggies
1 cup uncooked orzo pasta (give or take)
2 cups vegetable broth (ish)
Mixed vegetables, use any kind you like. We had:
Half of a bell pepper, cut into 1 inch pieces
About a cup of romanesco (broccoli is also really good)
7 or so spears of asparagus, ends snapped off and trimmed to 2 inch pieces
1 smallish zucchini, cut in to half inch slices and then cut into half moons
Half a medium yellow onion, chopped
Garlic – I used 2 cloves, but it really needed more like 5
Chopped tomato, or a handful of halved grape tomatoes
Seasoning as desired – I used a big pinch each of thyme, marjoram and basil (all dry)
Salt & Pepper to taste
Navy beans, cooked (approximately 1 can)
Splash of lemon juice
(Spinach and green peas are also good in this)
Bring the broth to a boil, add the pasta and let it cook until most of the liquid is absorbed, then reduce heat to a slow simmer. Meanwhile, cut up all your veggies. 
Heat a large pan over medium heat and add about ¼ cup of water. Then add the veggies, put the ones that take longest to cook in first (like the romanesco or broccoli), then add the others, according to how crispy or soft you like them. If using broccoli or romanesco, I normally cover the pan and let it steam for a few minutes until it starts getting soft. I did romanesco, then peppers, then asparagus, zucchini, onions and garlic. Add the beans. At this point, you may need to add a little olive oil, or a little more water, as the beans tend to stick a little. Add the salt, pepper, oregano and/or any other seasoning you're using. Once the beans are warmed through, add the orzo and remaining cooking liquid. Stir well to combine. Add the tomatoes, and simmer over low heat for a few more minutes. Splash a little lemon juice into the pan (or squeeze a large lemon wedge over it) and mix again. Taste for seasoning, adjusting as needed. I like to sprinkle a little vegan parmesan on mine as well. 
Creamy Basil Dressing
1 pkg (or most of one) Mori Nu Silken Firm Tofu
1 Tbl olive oil
1 Tbl white wine vinegar
1 Clove of garlic, peeled & roughly chopped (more if you prefer)
About ½ cup of fresh basil, torn and lightly packed
¼ tsp salt
Dash of Dijon mustard (about ½ tsp squirt)
Dash of black pepper
Water or non-dairy milk, if needed to thin it slightly
Place all ingredients into a blender or food processor and process until smooth. I used my Vitamix and ran it on high for about a minute or so. I added a little water to thin it out. Taste for seasoning and add more salt and/or pepper as needed.