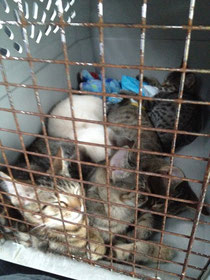 SLUGGO'S!
Rating: 5
So, we were driving a portion of a kitten transport (sign up ok?) on Saturday. There were 5 little babes, who were rescued from animal control in Jacksonville where they would have been killed, headed to Forever Home Feline Ranch in Springfield, IL where they will live until they are adopted. Yay! As if that wasn't cool enough, our part of the trip was from Atlanta to Chattanooga. Bonus! We get to visit Seth's mom! Also, going to Chatty meant going to Sluggo's to eat. Initially, we'd planned to have dinner at home since our part of the trip was the last leg before the kittens' sleepover, but they made better time than expected getting here so we opted to have a snack and then have a late dinner at our favorite place. The kittens were purrfect little travellers and actually slept most of the way. 
Once we'd handed them off (grudgingly, because I wanted to steal them) to the next person on the relay and their sleepover mom for the night, we continued on our way. We first found Sluggo's shortly after we first went vegan and Seth was going to visit his mom. I looked on Happy Cow for vegan-friendly restaurants up there and this one came up. And it was listed as completely vegan! It had good reviews, but I was a little unsure since there wasn't a website for it. Seth decided to take the chance and we are so glad he did. After he finished his lunch, he called me raving about how awesome it was and how we had to go back. So the next time, I went with him, we did and oh holy yumminess Batman! I cannot express how good their food is. It's more or less diner-type fare with things like a lentil patty melt, a Philly cheesesteak, a reuben and nachos.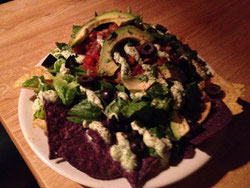 I try to get something different every time I go because I don't want to miss out on anything! This time, I got one of the specials, which was a tofu "crab" cake on a wheat bun with lettuce, tomato and remoulade. It was so good. So good. I'm still thinking about how good it was. I'm a sucker for vegan crab cakes, which is odd because I've never had a regular crab cake in my life. I opted to just get the sandwich on it's own as opposed to getting a plate, which comes with a salad and a side. I've learned that the portions at Sluggo's are what you might call ginormous and it was late too in the day to be eating that much food. Seth got the nachos, which he gets a lot. They're technically in the appetizers list, but it's a giant plate of food. They come topped with chili, but he gets black beans instead. They also have an amazing cheesy sauce, and the usual suspects of lettuce, salsa, guac and olives & stuff. I usually help him eat one or two because, well, I can't help it.