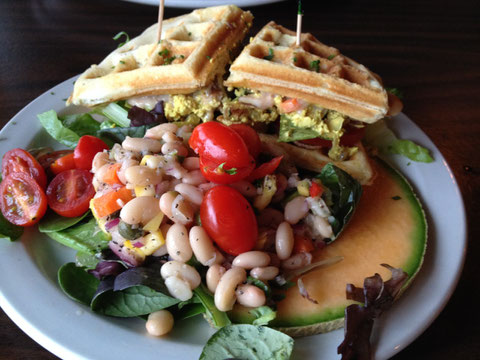 Sunday, November 17
Brunch at Sluggo's
Rating: 4.5
Shortly after we went vegan about 4 years ago, Seth was going to Chattanooga to visit his mom. Eating out had never been an issue because plenty of places had vegetarian options, but never having eaten there as a vegan, we were unsure what the choices would be. So, we searched on-line for vegan dining options there and found a handful of prospects. One place that popped up was a completely vegan restaurant called Sluggo's. They had really good reviews, but I couldn't find a website for them with the menu anywhere. He decided to take the chance and go for it. Then he called me and raved about how good it was and how much I would love it. He was right. Now every time we go to visit his mom, we go to Sluggo's for lunch as soon as we get there and have brunch on Sunday before we head home.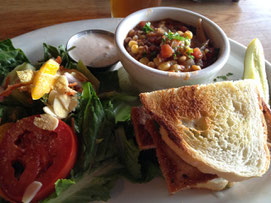 Our Saturday lunch was really good and completely hit the spot – we both had the soup and sandwich special which was half a breaded tofu sandwich along with a cup of veggie and pasta soup with a side salad. Perfect. Not too heavy, but plenty filling for a hearty lunch. For dinner, we just grabbed food from the Whole Foods hot bar, which had a surprising number of vegan dishes, given that it's a small store. Anyway, Sluggo's is open for brunch from 12-3 on Sundays and they have a really impressive menu. Last time I had the squash omelet, which is made from a squash batter and filled with mushrooms, onions, peppers and optional soy or cashew cheese and soysage. It's so good, but it's also massive. All brunch plates come with a side (hash browns, grits, etc) and the salad special, so add what I think is the equivalent of a 6 egg omelet to that and you end up taking half of it home with you.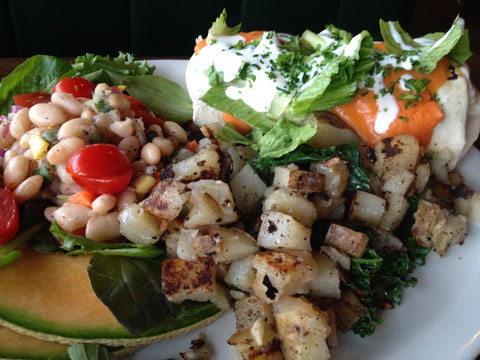 They also have a specials menu for brunch, which includes an entrée choice, a waffle sandwich, a waffle of the week, and a salad special that comes with the sandwich and the entree. This time, I got the waffle sandwich, which was a tofu scramble BLT with roasted garlic aioli. Now, I've never had a waffle sandwich and I worried that the waffle would be too sweet and would be weird with the other stuff, but no, it was perfect. I took one bite and declared how delicious it was. In addition to the tofu scramble, they make tofu bacon which is thinly sliced and perfectly smoky & salty. Granted, it's a lot of tofu and the waffle is huge, but it was so good. The roasted garlic aioli was amazing too and I seriously don't know what could be done to this sandwich to make it any better. Although, I did add a little sriracha to mine, just because I love that stuff and Seth had grabbed a bottle for us. The salad special was Italian white bean, which was served on a spinach salad with onion and grape tomatoes. This healthy side dish made me feel less guilty about that sandwich. Seth got the breakfast burrito, which is stuffed with tofu scramble and topped with cashew cheese. It. Was. Gigantic. And it came with a side (he got the hash browns) as well as the salad. He really enjoyed it, but he was coming down with a cold, so his taste buds weren't working quite right. He gave his brunch a 4.25, but I gave mine a 4.75, so I split the difference. Can I just take a moment to wax poetic about the hash browns at Sluggo's? OK good. They have kale in them. I love that so much. If you ever find yourself in Chatty, do yourself a favor and go to Sluggo's. You won't be sorry. But be sure to bring your big appetite, and probably wear your loosest pants.