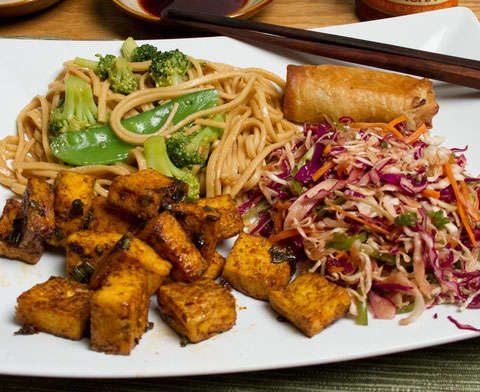 Tuesday, February 4
Salt & Pepper Tofu, Spicy Asian Slaw, and Udon Noodles with Broccoli & Snow Peas
Rating: 4.5
I seem to be on a bit of a roll lately – this is the third 4.5 dinner in a row. Yay me! The first time we had salt & pepper tofu was at a Vietnamese restaurant in East Atlanta called So Ba. I loved it. When I got my copy of Color Me Vegan, I was thrilled to see a recipe for it, but I confess, I was skeptical. It looked way too simple and the short list of ingredients made me think it would be bland, which is the cardinal sin of tofu around here. I should know better than to question any of Colleen's recipes by now – it was delicious, and anything but bland. The first time I blogged about it, my friend Becky from Glue and Glitter suggested baking the tofu instead of frying it. The frying was the one thing about the recipe I wasn't crazy about. Not that I don't like fried food – I do – but we try not to eat too much of it. Anyway, I took Becky's suggestion to heart and the next time I made it, I baked it. It came out pretty good, but I learned some lessons that made it even better this time. There are tons of recipes on the web for S & P tofu, and almost all of them are fried. Here's how I modified this to a baked recipe. I cubed the tofu and put it in a large mixing bowl. Then I drizzled 2 teaspoons of oil over it and tossed it to coat thoroughly. Next I sprinkled the spice mix over the tofu and pressed a couple of cloves of garlic into the bowl, then tossed it all to coat thoroughly. I baked the cubes at 400 for about 20-30 minutes, tossing them a bit as they cooked so they would brown evenly. Once they were done, I put them in a hot skillet with 1 teaspoon of oil and the minced scallions the cubes would have been fried with. Finally, I finished as the recipe directs and added some of the dipping sauce to the pan and let it get all gooey and caramelized, coating the cubes in yummy goodness. I thought it was a little too chewy (which resulted from too long in the oven) but Seth said (direct quote) "NO! That's what makes it so good. It's chewy!" So. I guess it depends on how you like your tofu. I wanted to be sure we got lots of veggies, but I didn't want a stir-fry, so I boiled some udon noodles and added broccoli and snow peas to the water for the last five minutes of cooking time. I drained it all and tossed it with a sauce I made up on the fly, which I didn't think was all that good. Seth liked it more than I did, but we both added some extra tamari and sriracha to our noodles. I'll keep working on it and post a recipe when I think it's fit for public consumption. The slaw recipe was also of my invention and is listed below. It would also be good with some ginger added and even a little sugar if you like some sweetness to your slaw. I didn't want to have leftover slaw and there are just two of us, so this is basically enough for two servings. I used regular green cabbage, but Napa or savoy would also be good – you'll need more if you use Napa cabbage because it's more delicate and will absorb the liquid more readily.
                                   Spicy Asian Slaw
1 cup shredded green cabbage (approximately)
1 cup shredded purple cabbage (approximately)
1 smallish carrot, julienned (you can also use a box shredder – I have a julienne shredder which I love, so I used that)
4 or 5 snow pea pods, cut into thin strips
2 tbl minced green onions (about 1-2 onions, green part only)
1 tbl tamari or soy sauce or Bragg's or whatever your preference is
2 tsp seasoned rice vinegar
1 tsp toasted sesame oil
½ - ½ tsp Sriracha, optional
Pinch white pepper, optional
Combine the cabbage, carrot, pea pods and green onions in a mixing bowl. Add the tamari, vinegar, and sesame oil. Add the sriracha and white pepper, if using. Toss everything to coat thoroughly and let it sit for about 30 minutes. This will let the cabbage soften as it absorbs the liquid and allow the flavors to blend. I like it at room temperature, but chill it if you prefer it cold. That's it. The slaw will not be spicy without the sriracha and white pepper, so if you like it mild, just leave them out. Easy peasy.