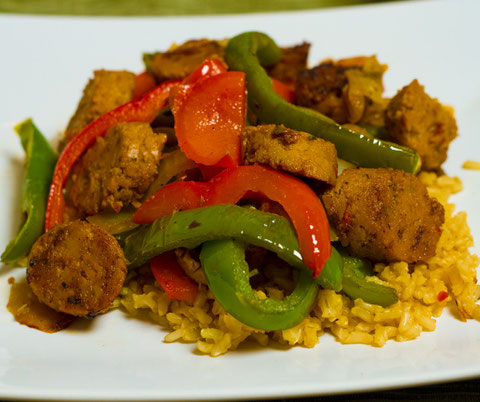 Monday, February 17
Sausage and Peppers over Brown Rice with Collards
Rating: 4.25
File this under "so easy it doesn't count as cooking". Seriously. We had a couple of Field Roast Italian sausages in the fridge, so I grabbed a couple of bell peppers, one green and one red, and a yellow onion and called it dinner. (If you want a homemade, low fat alternative to store-bought sausages, try this Happy Herbivore recipe.) All I did was cut the peppers and onion into slices and sautéed them in a little olive oil until they started to soften, then added the sliced sausage links and cooked them until they were crispy and the pepper-onion mixture was slightly browned. I sprinkled in a little crushed red pepper and a pinch of thyme. I meant to mince some garlic and toss that in too, but somehow forgot. How could I forget garlic?! This would be really good mixed with some pasta and chopped tomato and fresh basil, but we served it over brown rice. I always cook my brown rice in vegetable broth, which it gives it a really nice extra bit of something flavor-wise. We had a side of collards, which I already had on hand since Seth had asked me to make a batch for him over the weekend, so all I had to do was warm those up a little. I don't really use a recipe for them, but the basic outline is below and was based on the method Seth's mom uses. You don't have to cook them for as long as I do. It's a Southern thing to cook vegetables to death.
VEGANesp World Famous Top Secret Collards
1 large yellow onion, chopped
3-4 cloves of garlic, minced
1 TBL olive oil
1 bunch collards, tough stems removed, cut into slivers
2 cups of vegetable broth (or water, or water and bouillon)
1 smallish potato, cut into several large chunks (any kind you have on hand)
1 medium turnip, cut into several large chunks
2 medium carrots, cut into 1-inch chunks
1 large tomato, chopped, optional
Salt & pepper to taste
Balsamic vinegar, for serving
Heat the olive oil in a 2-quart saucepan over medium heat. Add the onion and cook until translucent, about 5 minutes. Add the garlic and cook until fragrant. Add the collards and sauté for a few minutes until they cook down a little bit. You may need to add them in batches. Add the broth, potato, turnip and carrot. Cover the pot and bring to a boil. Reduce heat to medium-low (I usually cook at between 2-3 on my gas stove). Let the collards simmer for about an hour, then add the chopped tomato and let it cook down for about another 30 minutes. You may need to add more broth (or water), but probably not. Taste for salt & pepper. A splash of tamari or soy sauce is also good. Serve in bowls, with plenty of broth and have the balsamic vinegar handy so everyone can splash in as much as they like.
Note: If you don't like your greens cooked to death, you could probably serve them after about 30 minutes.