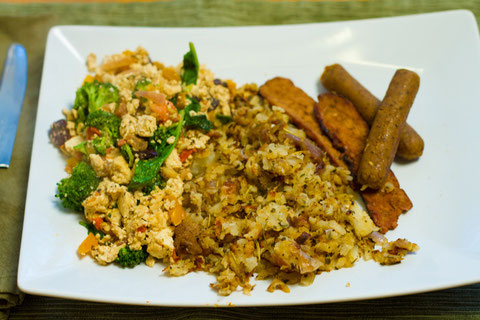 Sunday, March 30
Italianish Tofu Scramble with Hash Browns, Tempeh Bacon, and Apple Maple Links
Rating: 4.25
I found some of the new Field Roast Apple Maple Breakfast Sausage at Whole Foods. They're technically not being released until May, but Field Roast has been selling a limited quantity at certain Whole Foods stores, and lucky for us, the one near us is one of them. I bought a pack a couple of weeks ago, and had been meaning to try them sooner, but we had to change our plans for weekend breakfasts a few times and were in and out of town. So finally! I get to make a big breakfast! Like most vegans, one of my favorite things for breakfast (other than green smoothies, right?) is tofu scramble. We like to load ours up with lots of fresh veggies, and this time I used bell pepper, fresh spinach, broccoli, onion, garlic, tomato, and kalamata olives. The olives and tomato made me want a more Italian flavor to the meal, so I used oregano, basil, and marjoram to season it. I didn't have a recipe or anything, but more or less what I did is listed below. Seth made the hash-browns because he's really good at that. We baked one small and one medium-ish potato the night before and let them sit in the fridge overnight. He grated them with a box grater, and then cooked them in a skillet with salt, pepper, chopped onion, and minced garlic until they were nice and brown and crispy. They were so good. We both really liked the sausage links – they have a great flavor and are a nice addition to a special breakfast. We'll buy them again, but they're kind of pricey and we don't like to eat a lot of processed foods, although we do make exceptions for Field Roast, Gardein, and Daiya. The tempeh bacon was the Fakin' Bacon from Lightlife, also a favorite of ours. It was a wonderful Sunday morning breakfast, and here's more or less what I did for the scramble:
Italianish Tofu Scramble
(makes about 3-4 servings)
1 block of extra firm tofu, pressed
3 teaspoons olive oil, divided
Splash of tamari
3-4 cloves of garlic, minced (or to taste – we like a lot of garlic in everything)
Most of a small onion, diced (I used red, but whatever kind you like is fine)
1 small tomato, chopped
½ Orange, red or yellow bell pepper (whatever you have or like best)
1 small head of broccoli, cut into itty-bitty florets
2 cups raw spinach
Handful of kalamata olives, roughly chopped
1 teaspoon dried oregano
1 teaspoon dried basil
½ teaspoon dried marjoram
2 tablespoons nutritional yeast
Salt and pepper to taste
Crumble the tofu into a large bowl, and add the oregano, basil and marjoram. Mix well and set aside.
Heat the olive oil in a large skillet or pan over medium heat. Add the onion and cook for about 5 minutes, until soft. Add the garlic and cook 1 minute more. (If you're anti-oil, use a thin layer of water or broth to sauté instead.)
Add the bell pepper & broccoli to the onion and garlic and cook the veggies until they're tender, but still firm-about 7 minutes. Spray the pan with more olive oil if needed.
Add the spinach and sauté until it's wilted, but not completely cooked. Remove the veggies from the pan and set aside.
Heat the last teaspoon of oil in the pan and then add the crumbled tofu and a splash of tamari. Cook, stirring frequently until it releases the remaining water and gets slightly browned. If needed, spray the pan with more oil to prevent sticking.
Sprinkle in the nutritional yeast and stir until well combined.
Add the tomato and cook until it gets soft and starts to break down a little.
Return the cooked veggies to the pan, and add the olives. Mix well.
Season with salt and pepper to taste.
If you have leftovers, they actually keep pretty well and make an excellent breakfast wrap or pita for a quick, workday morning breakfast.