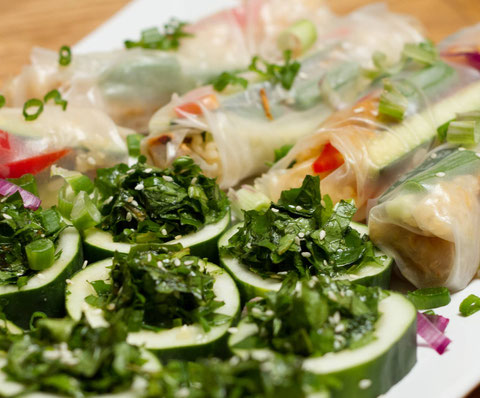 Wednesday, April 30
Vegan Sushi Rice Rolls and Kale Cucumber Cups
Rating: 4.75
We were thrilled when we got a copy of the new book, Vegan Finger Foods, to review. I'd actually been looking at it to preorder online recently, since it was written by the duo of Celine Steen and Tamasin Noyes, who brought us Vegan Sandwiches Save the Day, which I love. When the book arrived, we were not disappointed. I have a bit of a habit with new cookbooks to go through and make a list of recipes I want to try out. This time, I basically ended up transcribing the entire table of contents. Since we don't do a lot of entertaining due to limited space at home, I figured it would be a great book to use for potlucks, or the fun little food contests they have at Seth's office. We also like to have tapas-style dinners from time to time, so I decided that would be a great way for me to try out a few recipes at a time. To start off with, I settled on an Asian-themed dinner and selected the Sushi Rice Rolls, because I love sushi, and the Kale Cucumber Cups, because we'd received kale in our veggie basket and they looked really good.  Since there are just two of us, I made a half batch of each. I started off prepping the tempeh for the rolls. The recipe calls for browning it in a skillet for a few minutes, but I also steamed it first, just because I find tempeh to be too bitter for my taste unless it's steamed. Once it was done, I followed the rest of the instructions and let it marinate in the fridge for a couple of hours. Next I made the rice – I don't have a rice cooker, so I just did it in a pot. Once it was cooked and mixed with the seasoning mixture I stuck it in the fridge to chill for a couple of hours because it needed to be cold for the rolls. (I used white sesame seeds instead of black because I didn't have any black ones. While the tempeh and rice were marinating and chilling, respectively, I made the cucumber cups. The kale salad is crazy good and would actually make a great side-dish on it's own. I wouldn't have minded a bit more sriracha in it, so if you like spicy, add a little extra. I didn't have a melon-baller, so I just used a regular spoon to carefully scoop out the seeds from the cukes, then pack them with kale, and put them back in the fridge. Once the tempeh and rice were ready, I started on the rolls. I always have trouble with rice wrappers being sticky, so mine weren't as pretty as I'd hoped, but dang they were tasty. In the notes for the recipe in the book, they mention that the testers all had trouble not snacking on the tempeh while assembling the rolls. This is a real problem. The tempeh is really, really good. I can see using it in other dishes, like an Asian-inspired salad. Or burrito bowl. Or tacos.  I added sliced green onion to the rolls in addition to the cucumber and bell pepper the recipe asks for, and it was really good.  There's a simple dipping sauce of vegan mayo, sesame oil, and sriracha that goes with the rolls. I may or may not have been dipping cucumber sticks directly into it and snacking while I made the rolls. We loved both of these dishes, and with summer upon us, I think they'll make fun additions to picnics and cookouts. Both are served cold, so they can be made ahead, just be aware that rice wrappers get sticky, so the rolls could stick together. We also had tamari and some wasabi on the side for dipping. Recipes below are shared with permission from Fair Winds Press.
Sushi Rice Rolls
Yield: 16 rolls, 1 cup sushi sauce
For the Rice:
1 cup uncooked sushi rice, thoroughly rinsed and drained
1 ¼ cups water
1 tablespoon fresh lemon juice
1 teaspoon toasted sesame oil
1 teaspoon Sriracha
1 teaspoon tamari
1 teaspoon light agave nectar or brown rice syrup
1 tablespoon black sesame seeds
For the tempeh:
8 oz tempeh
Nonstick cooking spray
2 tablespoons tamari
1 or 2 cloves of garlic, pressed, to taste
2 tablespoons seasoned rice vinegar
1 teaspoon ground ginger
For the sushi sauce:
1 cup vegan mayonnaise
1 tablespoon Sriracha, more if desired
1 teaspoon toasted sesame oil
For the rolls:
16 8-inch spring roll wrappers
32 thin, 3-inch long red bell pepper sticks
32 thin, 3-inch long cucumber sticks
To make the rice:
Combine the rice and water in a rice cooker, cover with the lid, and cook until the water is absorbed, without lifting the lid. While the rice is cooking, combine all of the other rice ingredients in a large bowl. Let the rice sit for 10 minutes in the cooker with the lid on. Gently fold the rice into the dressing, and let cool before using. If preparing this step before serving, cover and store in the refrigerator until ready to use. 
To make the tempeh:
Lightly coat the uncut block of tempeh with cooking spray. Place in a hot skillet, lower the heat to medium, and brown the block until dark golden brown, about 5 minutes each side. Remove from the heat, place on a wire rack, and let it cool for a few minutes. Combine the remaining tempeh ingredients in a medium-size bowl. Cut the tempeh into ½-inch cubes, add to the marinade, and fold to coat. Refrigerate for 1 hour, or up to overnight.
To make the sushi sauce:
Combine the mayonnaise, Sriracha, and oil in a medium-size bowl. Cover and refrigerate before serving.
Immerse the spring roll wrappers, one at a time, in the warm water to soften. Soak for a few seconds until pliable. Handle carefully because the wraps tear easily. Drain on a clean kitchen towel before rolling.
To assemble:
Place two packed tablespoons of rice per moistened wrapper. Place three tempeh cubes on top of the rice, one red pepper stick and one cucumber stick on each side (two of each in all) of the rice/tempeh mound. Use the vegetable sticks to grab onto as you roll the rolls tightly. Repeat with the remaining rolls until you run out of one or all of the ingredients. Cover with plastic wrap and refrigerate until serving. Be careful when separating the rolls: the wraps might stick to each other a little, but won't tear if you separate them slowly. The rolls will keep for up to 2 days, stored covered in the refrigerator.
Kale Cucumber Cups
Yield: 14 Cups
 2 cups packed, very finely chopped kale leaves (stems discarded)
2 teaspoons tamari
2 teaspoons fresh lemon juice
1 teaspoon toasted sesame oil
½ teaspoon Sriracha, or more to taste
½ teaspoon white sesame seeds, more to taste
Salt and pepper, to taste
14 ½-inch thick round slices organic cucumber
Stir together the kale, tamari and lemon juice in a medium-size bowl. Using your hands, rub it together for a few minutes, or until the kale wilts and softens. Stir in the sesame oil, Sriracha, and sesame seeds. Let sit for 15 minutes for the flavors to meld. The kale will reduce in amount. Using a ½ teaspoon measuring spoon, or a melon-baller, carefully scoop out the centers of the cucumbers to create a bowl. Do not scoop all the way through the cucumber. Taste the salad and adjust the seasonings. Fill each cucumber with 1 teaspoon kale salad.