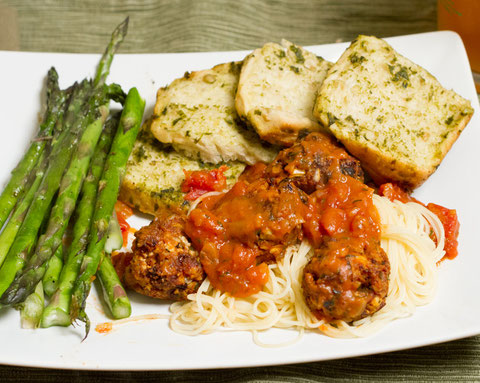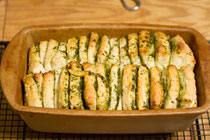 Saturday, May 17
Mediterranean Meatless Balls with Tomato-Thyme Gravy and Pull-Apart Pesto Bread
Rating: 4.75
This was another dinner we made from the new book, Vegan Finger Foods, and it was a winner, just like the last one. I'll admit, it was the bread (recipe below) that put this one over the top for me. When I stopped eating meat almost 19 years ago, my mother commented one day that I wasn't a vegetarian, I was a breadatarian. I'm still guilty of being a bit of a Carbarella and I'm a sucker for homemade bread. (Psst – there is a whole chapter in the book called "Bread Based Bites" – oh happy day!) It's probably best to make this one on a day you have a lot of time, because the bread, like many breads, needs to rise twice. The dough was very different than anything I'd made before, using cooked steel-cut oats as part of the wet ingredient mixture. I wasn't sure how it would work, but the result was a dough that was really easy to work with and baked into soft, pillowy yumminess. You roll out the dough and cut it into squares, then bake them in a loaf pan. The resulting squares pull apart from each other to make individual servings. The only thing I 'll do differently next time is to spread more pesto on the dough before cutting the squares, as Seth commented he would've liked a little bit more.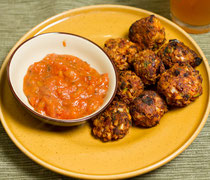 Next up, we had the Meatless Balls, which are tofu based and so delicious. I love that they have sun-dried tomato, kalamata olives, and fresh basil in them. The recipe makes about 15 or 16 balls, so if you're having them for dinner as opposed to serving at a party, you'll have leftovers, but no worries - they re-heated really well. I haven't made a lot of veggie meatball recipes before because honestly, I usually think they're more work than they're worth, but this one was quite easy and so tasty that I know we'll be making it again. I opted for the Tomato-Thyme gravy for the sauce just because a tomato sauce that was heavy on the thyme was intriguing to me. It was also crazy easy to make and so, so yummy. Another winner that was perfect with the meatless balls. Since we were serving these as dinner, I made a bit of angel hair pasta to serve them over and it was perfect – light enough to not detract from the focus of dinner, which was of course, the meatless balls and the tomato gravy.  We had asparagus on the side, just so no one could accuse us of not eating our veggies. This was the second dinner we've made from Vegan Finger Foods, and I have to say, it was another winner. I'll be writing a full review of the book as a whole in a few days, but (spoiler alert!) this is one book that's going to get a lot of use in our kitchen.
Recipes shared with permission from Fair Winds Press.
Pull-Apart Pesto Bread
Yeild: 1 Loaf
1 cup water
½ cup steel-cut oats
½ cup vegan milk, warm (I used soy)
2 tbls olive oil
2 tbls brown rice syrup or agave nectar (I used brown rice syrup)
2 ½ cups white flour
2 tbls vital wheat gluten
2 ¼ tsp yeast (1 packet)
1 tsp fine sea salt
Non-stick cooking spray (I used regular olive oil since I have a sprayer for it)
½ cup vegan pesto (recipe follows, will need to be doubled)
Bring the water and the oats to a boil in a small saucepan. Lower the heat to a simmer, and cook for 8 minutes, stirring occasionally. The mixture will be rather thick. Set aside to cool to lukewarm. Stir in the milk, olive oil, and syrup.
In the bowl of a stand mixer fitted with the dough hook, combine the flour, gluten, yeast, and salt. Add the wet ingredients to the dry and knead for 10 minutes. (Alternately, knead on a lightly floured surface for 10 minutes.) Add extra flour as needed, until the dough is manageable, pliable, and not too sticky. Cover the bowl with plastic wrap and let rise for 90 minutes, or until doubled in size.
Lightly coat an 8x4 in. loaf pan with cooking spray.
Punch down the dough, and roll it out onto a lightly floured surface into a 9x12 in. rectangle; spread pesto evenly on the surface.
Using a sharp knife, cut the rolled out dough into six 1 ½ in. wide strips. Place the strips on top of each other, with the pesto facing up. Cut into six stacks, each one made up of six layers. Transfer the stacks carefully to the prepared loaf pan. It doesn't matter if the stacks don't all fit in a row. Arrange the stacks cut sides up, so it looks like stripes. Cover with plastic and let rise for 1 hour, or until doubled in size.
Preheat the oven to  375. Lower the oven rack so the bread isn't too close to the heating element. Remove the plastic wrap and lightly coat the top with cooking spray. Bake for 25 minutes, then loosely cover with foil and bake for another 15 minutes, or until golden brown.
Remove from the pan and let cool for at least 15 minutes before diving in. Best served fresh.
For the pesto:
(double this for use with the bread recipe)
3/4 cup fresh basil leaves
1 or 2 cloves of garlic, pressed
2 tbls toasted pine nuts or toasted walnut pieces
Salt & pepper, to taste
1 tbl fresh lemon juice
2 tbl to ¼ cup extra virgin olive oil, as needed
Place the basil, garlic, and nuts in a food processor and pulse a few times to chop the basil and pine nuts. Add salt and pepper to taste, then add the lemon juice. Slowly add the olive oil with the machine running, until a paste forms.