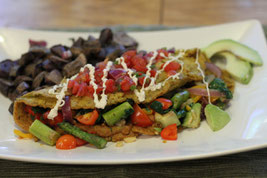 Sunday, October 13
Breffast! Chickpea Flour Omelette
Rating: 4.25
Avocado Situation, Day 4. We've revised our attack plan. Clearly, dinner alone will not drive this enemy from our midst. They will not win. A couple of weeks ago, we drove some adorable kittens on one leg of their journey to a foster in Illinois (they have all found forever homes!). Our trip took us to Chattanooga, where of course we went to Sluggo's for brunch. I had a squash omelette, which was similar to a tofu omelette, but the batter was made from grated squash. I deconstructed it as best as I could in my head (my ability to analyze recipes in this way is severely limited, but my mother is a genius at it) and decided I would give it a go sometime. I was home at lunchtime the other day and remembered I had half a zucchini in the fridge so I made my first attempt. I was pretty sure the Sluggo's version used chickpea flour and I saw a post the other day about a chickpea flour omelette. The wheels turned and after I looked around on the interwebs for a few minutes, I felt like I had a good idea of the proportions of flour to liquid.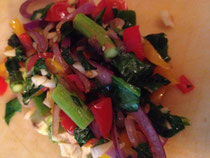 The first one I made came out really good, and I tweaked it a bit for this morning. The first one I filled with sautéed spinach & red onion and a slice of Daiya Swiss. This time, I went more southwestern and used bell pepper, onion, garlic, jalapeno, spinach, asparagus and yes, avocado along with a little bit of Daiya Havarti. I was relieved when Seth liked it. I thought it was great when I made it the other day, and was anxious for him to try it. It's not really all that close to the Sluggo's omelette, their version is a lot more rich, and mine needs a little more seasoning, but overall, I'm happy with the recipe I came up with. I served it with blue potato oven baked hash browns and Seth has a Gardein sausage patty with his. (Not pictured.) So, here goes:
Chickpea Flour Omelette
(Makes 2 omelettes)
½ Cup chickpea flour
1 Flax Egg (1 TBL ground flax whisked with 2-3 TBL water)
½ Cup non-dairy milk (or water – the first time I used water, this time I used half water, half milk & I think the milk makes a richer tasting batter)
1 TBL nutritional yeast
½ cup (or more if you want) shredded zucchini (or yellow squash)
½ tsp black salt
¼ tsp turmeric
A dash or two of paprika
Black pepper, to taste (I gave ours a few good shakes)
Other seasoning as desired (I used a few dashes of chili powder & chipotle powder, but if you were making a more Mediterranean omelette, maybe some oregano & marjoram would be nice)
Vegetables, cheese as desired to fill
1-2 teaspoons of oil for frying (more if you sauté the veggies)
Grind the flaxseeds in a coffee grinder & mix with the water & set aside. It needs about 10 minutes to set up & get goopy.

Combine the chickpea flour, milk (or water), zucchini or squash, nooch, and seasonings and whisk to blend.

 

Add the flax egg and whisk again.

Let the batter rest for about 10 minutes. While it's resting, go ahead and sauté your veggies.

Heat ½ - 1 teaspoon of oil in a pan (preferably a non-stick pan or well seasoned cast iron skillet – it will stick a little so keep a close eye on it) and pour about half the batter into the pan. Use a spatula to spread it out to an even thickness.

Cover the pan and let the omelette cook for about 5 minutes.

 

Flip the omelette and add the fillings. Let it cook for a minute or two to get evenly browned, then fold in half. (I do it this way because back when we ate eggs, we liked them firmer and not "wet" at all. Other recipes I read do not instruct flipping, but they have you cook it on the first side for a little longer. Just experiment to find your favorite method.)

Repeat with the remaining oil, batter and filling. Keep the first omelette warm in the oven while the second one cooks. I suppose you could just make one big one and cut it in half, but I think it would be hard to get out of the pan, since it does tend to stick a bit.