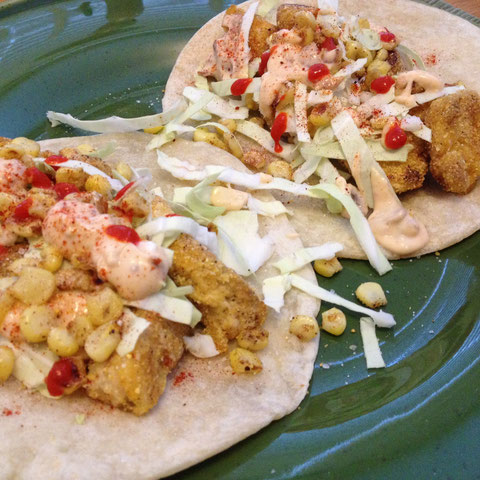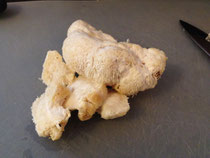 Friday March 21
Lion's Mane Mushroom Tacos
Rating: 4.5
So. There were some lion's mane mushrooms in our basket from Vegetable Husband this week. I may have mentioned before that Seth does not do mushrooms. At all. Ever. For any reason. I, however, LOVE them, so I'm always ecstatic when there are some in the basket because I get to eat all the mushrooms. Last time it was shiitake mushrooms, which I'd never cooked with before. I made them into a Bahn Mi sandwich. It was crazy good. This week's lion's mane mushrooms were another new-to-me variety. Now, I can't take credit for the idea to make these into tacos. It actually came from one of the Vegan Drinks meet-ups we went to that was at Across the Street Mexican restaurant. They made a vegan version of their oyster tacos using, as one might guess, oyster mushrooms. OK, I know. Lion's mane & oyster mushrooms really aren't alike, but since everyone described the texture of them being kind of like lobster (which I've never eaten) and people also say oyster mushrooms are really similar to oysters (which I've never eaten) I figured, "Eh. Close enough." Only trouble was I had no idea really where to start.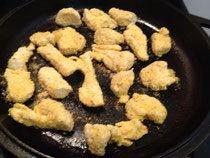 To the Batcave! Er, internet! Did you know that there are no lion's mane mushroom taco recipes on the entire internet? So. OK. Fine, Google. Have it your way. I looked for oyster mushroom recipes instead, and found this one, which I used as my starting point. I didn't want to batter & deep fry – the tacos at ATS were coated in cornmeal and I really wanted to stick closer to that idea. I didn't measure anything that I put into the cornmeal mixture, but I kind of wish I'd put more of everything, because the coating could have been more flavorful. As I found out, lion's mane mushrooms have a really delicate flavor, so you'll want to be sure to give them a boost with the spices. To get the coating to stick to the mushrooms, I used a mixture of almond milk, cornstarch & flour, which worked really, really well. I don't like to use too much oil, so I started with about half a tablespoon and then added more by spraying the pan with olive oil, and adding about another teaspoon or so about halfway through cooking. Everyone told me that I needed to cook these babies more slowly than other kinds of 'shrooms, so I started them at a medium heat and reduced it to medium-low when the coating started to brown nicely. I expected the mushrooms to shrink a bit more, so I ended up with enough for 3 tacos instead of the 2 I was aiming for. When it came to garnishes, I went with corn - which I tossed into the skillet when the mushrooms were almost done and cooked until it was lightly charred – and the tiny little bit of I had left. I also made a quick chipotle mayo, and dribbled a little sriracha on top because really, sriracha just goes on pretty much everything around here. So here's the sort-of-recipe I used. I seriously need to start measuring things when I cook. It will make this whole thing so much easier.
Lion's Mane Mushroom Tacos

1 large and 1 small lion's mane mushroom, cut into chunky pieces/slices
For the breading:
Cornmeal – about ½ cup
Garlic Powder – about ¼ teaspoon (it really needed more)
Dried Oregano – a pinch
Smoked Paprika – about ¼ teaspoon (it really needed more)
Sea Salt & Black Pepper (to taste)
Cumin  - I sprinkled this on while the mushrooms were cooking – I wish I'd added it to the cornmeal mixture up front
For the milk mixture
Almond milk - about ½ cup
Cornstarch – about 2 teaspoons
Flour – about 2 tablespoons
Olive oil for frying (start with ½ tablespoon and add more as needed while cooking)
Flour tortillas (fajita size)
Garnishes:
Corn – about 3 tablespoons, charred in the skillet (I used frozen and didn't thaw it)
Cabbage - as much as you like, shredded or finely sliced
Chipotle Mayo
Sriracha
1. Cut the mushrooms into sort-of bite sized pieces. I made     mine just sort of chunky bits that looked like they'd be easy to manage. Set aside.
2. Heat the oil in a cast-iron skillet over medium heat.
3. Mix the almond milk, cornstarch and flour in a small bowl & whisk well to combine.
4. Mix the cornmeal, paprika, garlic powder, salt, pepper & cumin in a separate bowl.
5. Dunk the mushroom pieces into the milk mixture so that they get nicely coated, then dredge them in the cornmeal mixture and flip over to coat evenly on all sides.
6. Place the breaded mushrooms into the heated skillet and cook, turning occasionally, until they are tender and lightly browned on all sides. Reduce the heat to medium-low about halfway through cooking time – mine were starting to brown faster than they felt like they were becoming tender, so I reduced the heat. I didn't keep track of the time, but it took them maybe 10 or 15 minutes to cook.
7. When the mushrooms are almost done, add the corn to the skillet and toss gently in the pan until the kernels are starting to become lightly charred.
8. Put about 1/3 of the mixture into a flour tortillas that you've heated to soften (or use corn if you like those better)
9. Top with cabbage, corn, and chipotle mayo. Drizzle with sriracha. (For the chipotle mayo, there are tons of recipes out there, or you can buy premade Veganaise brand now.)
10. Post photos on the internet and declare that you have won lunch.  Or dinner. Whichever.
Oh, a couple of other things. I don't think I would put salsa on these. It seems like it would be weird to me, but maybe not. Definitely don't skip the mayo – the dry nature of the coating on the mushrooms really wants a creamy companion in there with it.