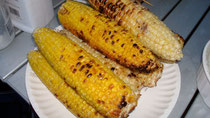 So, one of the things we love about our camping trip every year is the potluck on Saturday night. It's a large group of people who go on the trip each year and Saturday is the night we all eat together. There are some vegetarians, some vegans and a lot of omnis, but for some reason, the stuff we bring always goes pretty fast. Hmm… guess omnis like vegan food after all. Anyway, since we had to basically evacuate the camping area Saturday morning, we had a ton of food and nowhere to grill it.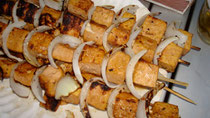 Thankfully, we had some friends who were willing to not only let us bring the food over to grill and share, but also let us set up our wet tent in their yard to dry. Yay! A few more people came over (also refugees from the trip), everyone brought something and we had a mini version of the potluck. Seth "casually" asked me (suggested) if I was going to make a sauce for dipping the tofu in, which meant he wanted some tzatziki. I found a great recipe here, which was a huge hit.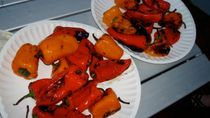 Seth manned the grill and everything was cooked perfectly. The tofu and veggies were marinated in the Veganomicon Italian marinade recipe and were gobbled up enthusiastically. We had made the marinade ahead of time for our camping trip and added the oil to it right before we put the tofu in. We even brought some of our homemade butter for the corn and everyone thought it was great. Beautiful night with beautiful friends. Gratitude.