Dulce Vegan Cafe Bakery, Atlanta GA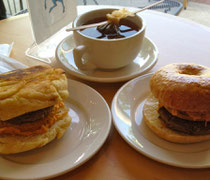 Dulce Vegan is located at1994 Hosea L Williams Dr NE Atlanta in the Kirkwood neighborhood. They specialize in vegan-baked goods, soups and sandwiches. When I went vegan I gave up on the idea of having a breakfast sandwich with egg bacon and cheese on an English muffin. Not so with Dulce Vegan, they have vegan versions of all the familiar non-vegan breakfast standards and they taste delicious. Get your breakfast sandwich on their homemade English muffin, it is crazy good.

     Wait till you see their baked goods, oh my God they are beautiful. They have red velvet cakes, assorted bright colored cupcakes with heaping swirls of frosting and ridiculously good-looking cinnamon buns to name a few of their many items. They really do a great job dispelling the myth that vegans only eat tofu.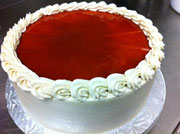 As vegans in Atlanta it is so nice to have a place where you can go and not have to worry about the food having any ingredients that use animal products. We asked the bakery's owner a few questions and here is what she had to say.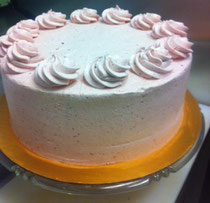 Q: Why did you choose to start a vegan bakery here in Atlanta?
A: Opening a vegan bakery was a goal that combined our passion for baking and
veganism. We set out to make the kind of food that we like to eat but have a hard time finding in Atlanta. Food that is fresh, local and could feel good about eating. We specialize in 100% vegan and allergy friendly sweets free of processed sugars and hydrogenated oils. We believe that everyone deserves delicious and beautiful desserts, no matter what their dietary needs. Our sweets prove that there is no need to compromise taste to make cruelty-free desserts that you can feel good about eating.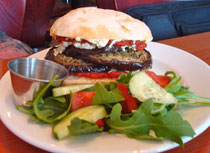 Q: As both a bakery and a café, what kinds of menu items can patrons expect?
            A: We have a variety of vegan sweets baked fresh daily. Options include scones, muffins, cupcakes, cookies, and also cakes by the slice. In addition we serve our breakfast sandwiches all day long. We also offer a rotating selection of soups, sandwiches, salads, coffee, and teas all made with organic, local, and fair-trade ingredients. Special orders are also a large part of what we do every day at D.V. We make birthday cakes to wedding cakes and everything in between. For these items we customize the order according to each client's needs including serving size, flavors, design, and adjusting for any allergies such as soy or gluten.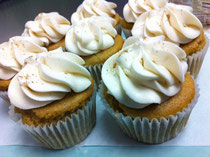 Q: What do you enjoy most about operating a vegan bakery/business?
            A: Six years ago we would have said it was changing people's perception of what vegan food and vegan baked goods taste like. This is still very satisfying, but nothing beats having a customer come back to tell us that they have been vegan for decades, but had given up on having a vegan birthday cake that was just as good or better than a "regular" cake. Or having a mom walk into the bakery and hug us because we just made her 4 year old, who has so many allergies, her first birthday cake. It's been an unexpected surprise, but it keeps us going.